Leeming Memorial - Romanby Golf Course - Halifax LV836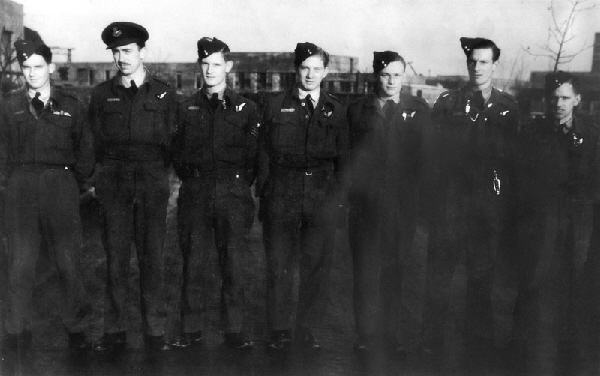 The crew of LV836, F/O R. K. Laut RCAF, Sgt E. J. Rowe RAFVR, F/O W. N. Hegy RCAF, P/O R. W. Moody RCAF, Sgt G. H. Jones RAFVR, Sgt A. F. Fitton RAFVR, Sgt F. A. C. Harris RAF
A Letter Received From Gareth Bradley-Sessions F/L, Officer Commanding Performance Development Flight, Royal Air Force Leeming
Royal Air Force Leeming shares a unique bond with the Royal Canadian Armed Forces as RAF Leeming was a 6 Group RCAF station (part of RAF Bomber Command) during World War II and still serves as a flying base today. Over the period of 1940 to 1946 RAF Leeming was home at various times to 405, 408, 427 and 429 Sqns of the Royal Canadian Air Force. The links between RAF Leeming and their Canadian counterparts was recently resurrected with the agreement of a "Twinning" Charter, enclosed with this letter. On the morning of 21 February a Royal Canadian Air Force 427 "LION" Sqn Halifax, LV836, took off from RAF Leeming at 0015hrs on a bombing mission to Stuttgart. Unfortunately, the Halifax crashed approximately 9 minutes later in fields just outside of the market town of Northallerton. All 7 crew members on board were killed on impact. My Station Commander tasked myself to assist Romanby Golf Course, which is now on the area where the bomber crashed, in researching the crash. Following a successful trawl for historical information, Romanby Golf Course and RAF Leeming have decided to raise funds for a memorial, due to be dedicated on 5 March 2010 by Colonel Doug Neil, Canadian Forces Air Command, Special Representative to the United Kingdom. Yours Sincerely,
Gareth Bradley-Sessions F/L
Ed: This letter started a flurry of activity here in Canada and before it was finished 427 SOAS, the Air Force Association and 427 Squadron Association as well as some individuals have donated £300 to the memorial. This contribution was coordinated with our Treasurer Sask Wilford. The memorial dedication took place on March 5, 2010
The memorial inscription will read .....
---
This Memorial is dedicated to the crew of Halifax LV836 from 427 "Lion" Sqn RCAF who crashed near here in the early morning of 21 February 1944.
F/O R. K. Laut RCAF
Sgt E. J. Rowe RAFVR
F/O W. N. Hegy RCAF
P/O R. W. Moody RCAF
Sgt G. H. Jones RAFVR
Sgt A. F. Fitton RAFVR
Sgt F. A. C. Harris RAF
This Memorial is also dedicated to all members of Bomber Command who gave their lives in the defence of freedom 1939 ­ 1945.
Per Ardua Ad Astra
---
Due to the short notice a further ceremony will take place, attended by some relatives and interested others later this year. The date will be posted on the web site. Canadians Col. Doug Neil , Maj. Luc Vermette and Capt. Jeremy Fountain serving in the UK , Germany and UK respectively have been liaising with the authorities in the UK to assist F/L Bradley-Sessions in making this happen. F/L Bradley- Sessions has been very active in ensuring the design, purchasing and placement of this memorial. As well as keeping interested parties in Canada informed, he completed the research to identify the crew. A hugh debt of gratitude is due F/L Bradley- Sessions.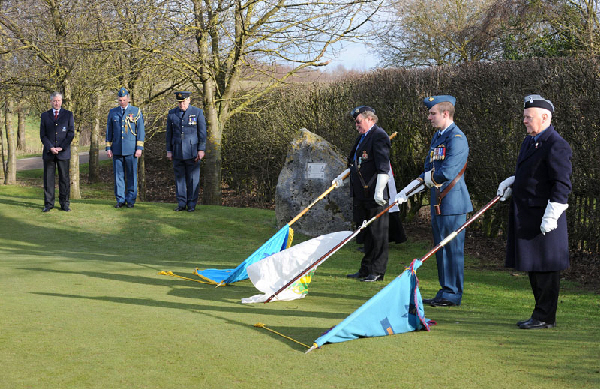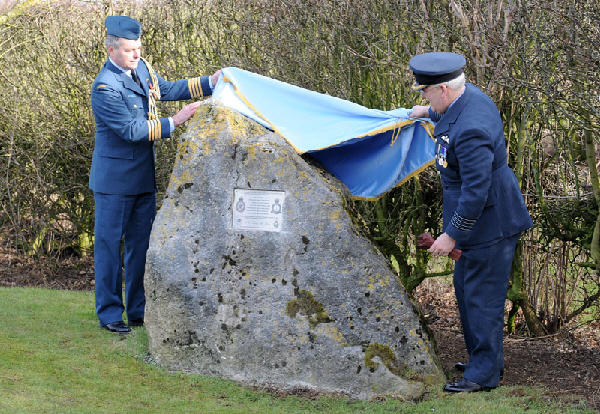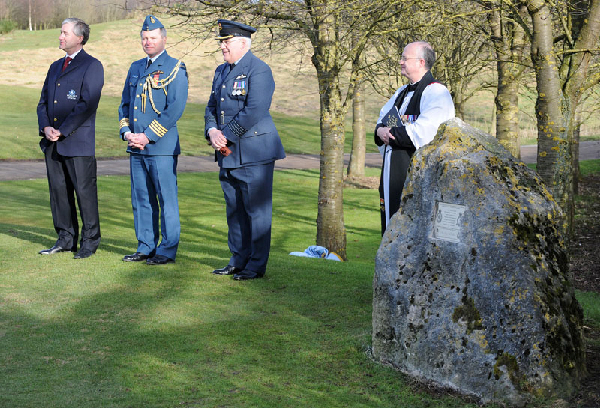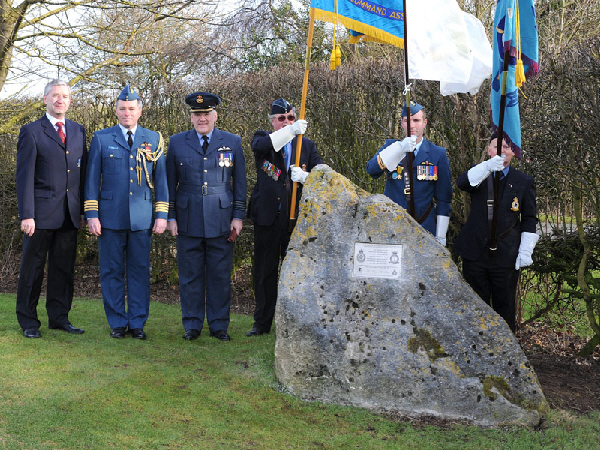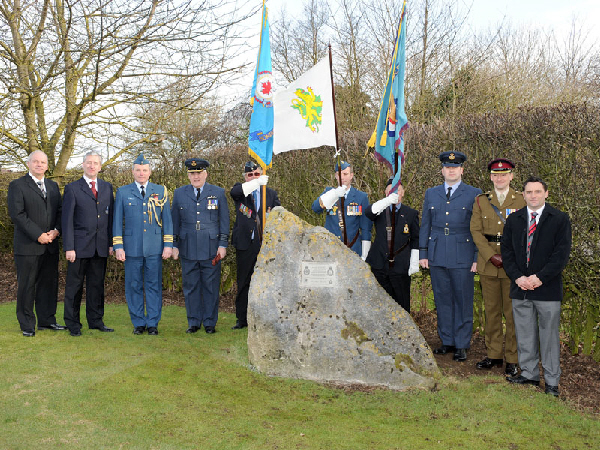 All photographs courtesy RAF Leeming