George Robert "Bob" Ayers
Military Service - 1943 - 1946, 1949 - 1972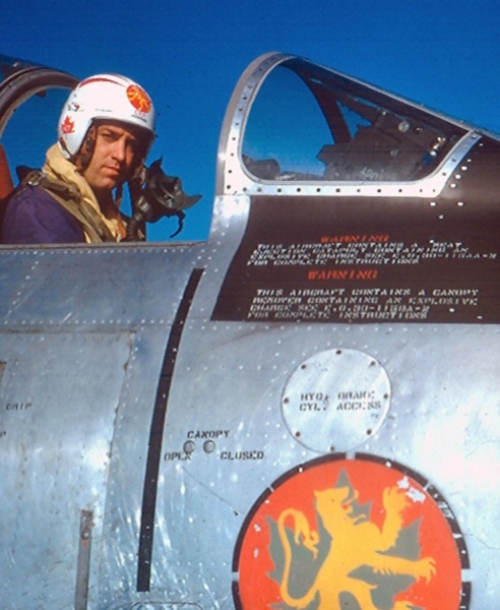 George Robert " Bob " Ayres born on December 9th, 1924 in Norfolk, Virginia died peacefully on May 16th at the Hospice House, at the age of 86. Bob's love of 62 years, Mary, passed away in May of 2007 and he is survived by his son Robert Ayres of Coldstream B.C.
Bob started his flying career with his private pilots license, soloing at age 16 in 1940. He joined the RCAF in 1943 instructing on various aircraft until the end of the war. After 3 years of bush flying he rejoined the RCAF in 1949 and obtained his A-1 Instructor ticket. In 1952 he went to Chatham and started flying the Sabre and in 1953 served three years at 3(F)Wing, Zweibrücken, Germany as a Fighter Pilot with 427 Squadron. ln 1956 he completed the Empire Test Pilots School at Farnborough, England and returned to Canada as a test pilot. For three years he was involved with cold weather testing of various aircraft and in 1961 was posted to Edwards Air Force base in California where he worked with a joint test force on the F-104. In 1962 he was posted back to 3 (F) Wing, Zweibrücken, Germany flying the CF-104 until 1968 where Bob was the Wing Test Pilot and Flight Safety Officer. Upon returning to Canada Bob retired from the Air Force in 1972 and resumed an 18 year civilian flying career until 1990 where he and Mary retired again in Blind Bay, BC. Bob could not stay away from flying and spent another 10 years flying float planes and testing.
Bob Ayres flew as a professional pilot for over 60 years and accumulated over 34000 flying hours and loved what he did and never flew a plane he didn't like. He will be missed by those who knew him as a friend and a comrade and for his humor , compassion, and joy of life.
Thank you to the caring, kind, thoughtful and supportive staff at the North Okanagn Hospice House who made Dad's final days peaceful and comfortable. At Bob's request there will be no service. In lieu of flowers, friends and family may make a memorial donation in Bob's name to a charity of your choice
I would like to thank everyone who sent an email to Dad just as we were moving to the Hospice. He truly appreciated your comments and felt he was reading replies from his obituaries. Dad passed away quietly and peacefully at 2:20 am May 16th. I got the call and drove down to say my goodbyes. He looked exactly as I had left him a few hours earlier. I removed his Air Force ring and put it on my finger as I didn't think he would mind and will most likely leave it on.
Dad was very thorough as most of you are aware and he made my job pretty easy in dealing with his matters. He bought two cremation plots at the Vernon Cemetery and had ordered his and Mom's headstone and even one for me but think I will cancel mine for now. I now have the arduous task of going through years of paper and many albums and boxes of pictures. Dad was a collector and nothing was thrown out. I will never forget the rides I had in several different aircraft when I was young . I am sure I had enough hours to solo but I admit I broke the mold and decided to take Mining engineering instead of ROTP. He never said he was disappointed and always supported me in my endeavors.
Dad had medical problems for the past 10 years with a bad back and joints to prostrate cancer that was cured. He then had problems with his bladder from the prostate radiation and things just expanded. He provided care for Mom for 5 years prior to her passing and that was hard on him and then with Mom passing I think he had enough. I took dad to Mexico 3 years ago and he enjoyed the trip and I know he loved his Air Force reunions that he attended. We had talked about going to Ottawa this year renting a car and visiting the Military museums and some of the bases like Trenton. We were also going to go to the Boeing museum in Seattle as they have some Canadian military aircraft on display. I will go back east and do some of our plans in the next year or two. As you are all aware I could have written many many pages on Dad's history so maybe a book would be easier. I am sure all of you could have similar backgrounds.
I wish to thank all of you for being Dad's friend as he was a pretty special guy. I will miss him and am pretty sad but I am so happy for him knowing he is where he wants to be and with his loved ones and his Mary.
All the best
Bobby