Weldon Moffatt's Home Page
The photos that have been scanned are copies of Operation Orders, the following Operation Report and in one case a Operation Combat Report. Unfortunately the scans did not transfer well and efforts to fix have failed. Weldon's pilot was F/L Claire Collins
---
Flight Sergeant(R) Weldon Moffatt DFM, WAG R203649 and his Crew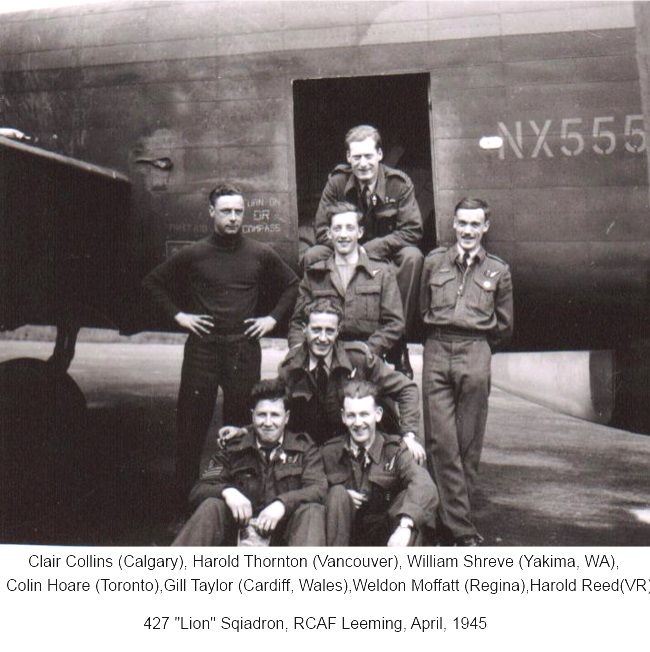 ---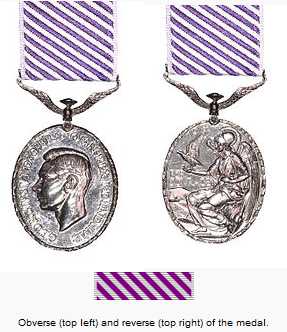 Weldon was born and grew up in Regina. His interest as a boy was in building model airplanes and flying them in the local Armoury om Saturday mornings. He joined the Air Force in 1942 and was trained as a Wireless Operator & Air Gunner. He trained at No.3 WS (graduated 22 February 1944) and No.2 BGS (graduated 20 April 1944). He joined 427 Squadron in December 1944 and flew with the C.C. (Red) Collins crew until May 1945 when the crew volunteered for the Pacific Theatre. Weldon was awarded the Distinguished Flying Medal.
The citation reads. "...completed numerous operations against the enemy in the course of which [he has] invariably displayed the utmost fortitude, courage and devotion to duty. Flight Sergeant Moffat completed twenty-seven operations and one hundred and seventy-one hours operational time on his first tour, completely on heavily defended German strategic and mining targets. His work has been outstanding as a wireless operator, and his co-operation, coolness and devotion to duty has contributed in a large measure to the success of the many sorties he has completed. His operational dash and cheerful confidence has instilled a high standard in his crew."
After the cessation of hostilities, Weldon managed a Canadian Forces bowling alley at Eastern Passage, N.S. This did not appeal to him as an Air Force career and he requested discharge.He went back to school to complete his education and then worked as a Branch Accountant for Westinghouse in Regina. He continued his studies in Accounting at night school and due to his success was hired first by Dowell and then later by Imperial Oil at various centres in Western Canada. While working at Dowell he began a stock portfolio as a savings plan. Although this consisted of junior oil companies, later it was diversified and allowed him to retire early in 1976.
Today, Weldon finds himself busier than ever. After retiring, he started associating with Air Force veterans and aviation interested individuals. This has included many visits to reunions and to Pettawawa. He joined the Air Force Association of Canada and was President of its Prairie Group and a Director of the Association
In 1976, he began studying electronics and integrated circuits. As a result he was able to build himself a home computer before they were available in retail stores.
Ed note: Weldon in addition to his other duties and hobbies is the 427 Squadron's Association's Saskatchewan Regional Director.
---
Operations Order for December 26, 1944


Operations Record for December 26, 1944


Operations Order for December 27, 1944


Operations Report for December 28, 1944


Operations Order for December 29, 1944


Operations Record for December 29, 1944


Operations Order for December 30, 1944


Operations Record for December 30/31, 1944


Operations Combat Report for December 30, 1944


Operations Report for December, 1944


Operations Order for January 2, 1945


Operations Record for January 2, 1945


Operations Order for January 5, 1945


Operations Record for January 5, 1945


Operations Order for January 6, 1945


Operations Record for January 14, 1945


Operations Order for January 16, 1945


Operations Record for January 16, 1945


Operations Report for March, 1945


Squadron Postings effective May 31, 1945


The following articles were sent by Weldon from his archives


MGM
A newspaper article depicting the reaction of WW II 427 crews to receiving mail from movie stars
Muff Mills cartoon
A WW II 427 Association member who turned his hand to cartoons for early editions of ROAR
RCAF Identity in Bomber Command
An excellent article on the evolution of "names" for 6 Bomber group with an emphasis on the "Lion" Squadron
Report of a Talk given by Weldon
To the Richard Groome (Regina) chapter of the CAHS and reported in their newsletter, Windsock - April 2014