Grouse Mountain
A report by Dick Dunn
There were 7 direct descendants of Lt Barlow at the site.
We had 4 Sabre jocks attending: Me, Jet Johnson, Bud White, & Paul Seeger
Best regards,
Dick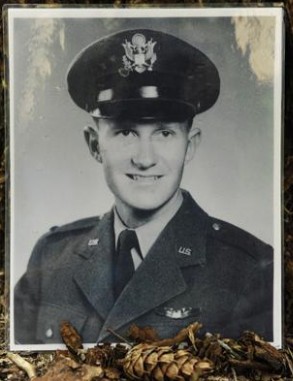 Lt. Lamar J. Barlow died in a U.S. air force F-86 on Grouse Mountain
Pilot's family reunites at crash site
BY JOHN COLEBOURN, THE PROVINCE Newspaper, Vancouver, B.C., JUNE 14, 2009
Tears flowed on Grouse Mountain yesterday as four generations of a family visited for the first time the crash site of U. S. Air Force F-86 jet fighter pilot Lt. Lamar J. Barlow.
Barlow, a 25-year-old military pilot met instant death on Feb. 12, 1954, when his plane, which was capable of travelling at the speed of sound, slammed into the heavily wooded Skyline area, 2,700 feet up Grouse. The all-weather interceptor Barlow was flying, which crossed into Canada routinely, was loaded with 24 rockets -- four of which were never recovered. Those rockets each had the destructive equivalent of a 113-kilogram bomb.
The 12 family members, who live in Utah, made the hike into the old chairlift area of Grouse and held an emotional ceremony on what would have been Barlow's 81st birthday. Photos of the young military pilot were placed on the massive jet engine -- the only part of the plane that has been left behind. An American flag was also placed on the engine. A plaque is in place reminding people of the crash, one that happened in the middle of the Cold War -- a time of international uncertainty as countries engaged in massive weapons buildups.
Barlow's daughter, Susan Horne, was born three months after his death, and she found yesterday emotional but very worthwhile. She too is a pilot, and through freedom-of-information channels has accessed the various military reports that were done following her father's death.
"It was gut-wrenching to read those reports," she said. "In those days they were going awfully fast for the sophistication of the navigational instruments," she added. After an hour's hike, Horne finally got to see the jet engine from the plane, and the final resting place for her father.
"The coroner's report, they found very little remains left, so to me this is his gravesite," she said of the accident scene. "I couldn't have picked a better gravesite, one in the forest overlooking one of the most beautiful cities in the world." Horne said she thought nothing from the plane crash had been left on the mountain. "I'm so surprised. I had no idea there was anything left on the mountain," she said.
Barlow's widow and Susan's mother, Gloria Sonntag, 78, reflected at the crash scene and recalled his love of flying. "I have mixed emotions right now," she said tearfully. At the age of 25, Gloria said her young husband had shown great promise as a jet-fighter pilot. With a baby on the way, Barlow had been given the responsibilities of having his own jet.
"He was totally thrilled to have his own plane," she said.
The accident was believed to have been caused by radar operators at the McChord air force base in Tacoma, who were fooled by "radar ghost," a problem in which they mistook the "ghost" or echo for Barlow's jet fighter. Barlow was following directions given for this echo when he hit the mountainside. United States Air Force investigators later determined a radar ghost resulted in Barlow being led to believe that he was over Tacoma and not Vancouver when his aircraft slammed into Grouse. Prior to the fatal crash, Barlow had radioed his base to inform them his compass had failed and that he was lost. Radar operators then picked up his image on their screen at McChord and also on the secret radar near the border. They directed the image for about 15 minutes before the fatal echo appeared on the screen.
Richard Dunn, president of the Air Force Officers Association and a former F-86 pilot himself, helped put the event together. An avid hiker, Dunn came across the airplane engine on Grouse two years ago and then started to research the history of the crash. That led him to the U.S. Consulate office in Vancouver. After the consulate was given the details, it began a difficult search across the U.S. to find the family of the downed pilot. About six months ago, the family was contacted and responded by saying they wanted to visit the crash scene on Barlow's birth date. Once the date was set, Grouse Mountain staff offered to transport the elderly and children down close to the crash site.
"This is a miracle to us," said Horne of those who helped them bring some closure to the tragedy. "People have cared so much. It's incredible what they have done for our family."
jcolebourn@theprovince.com © Copyright (c) The Province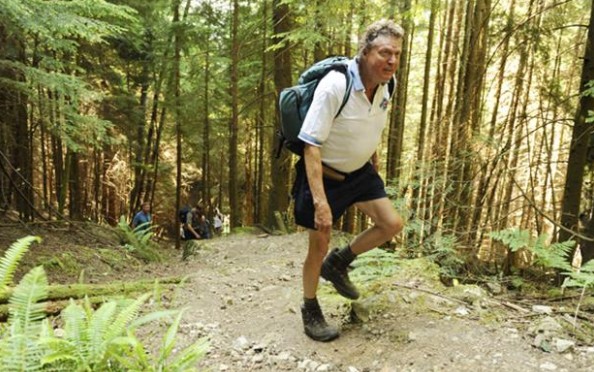 Former F-86 Sabre pilot Richard Dunn leads the family of Lt. Lamar J. Barlow to his 1954 crash site on Grouse Mountain in North Vancouver June 13.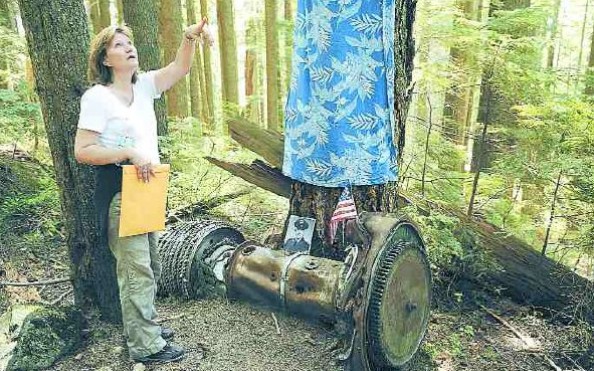 Susan Horne visits the site where her father, Lt. Lamar J. Barlow, right, died in a jet crash on Grouse Mountain.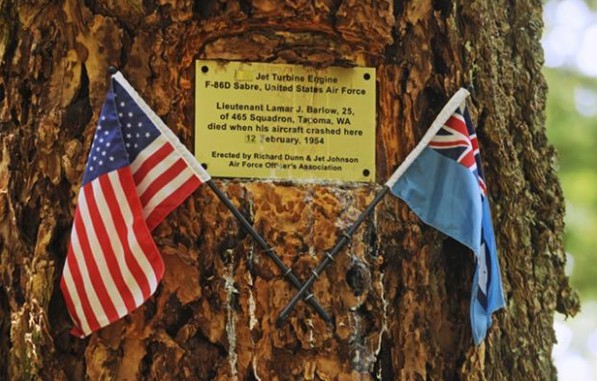 A plaque, put up by Richard Dunn and Jet Johnson, marks the Grouse Mountain site of Lt. Lamar J. Barlow's F-86 Sabre crash. Barlow crashed in 1954.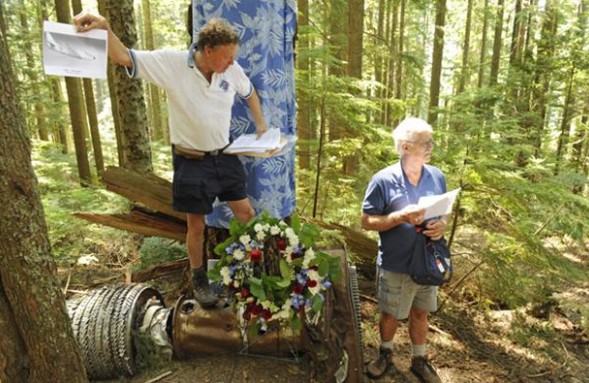 Richard Dunn (left) holds up a photo of a F-86 Sabre, along with Jet Johnson at the site of Lt. Lamar J. Barlow's F-86 Sabre crash on Grouse Mountain in North Vancouver on June 13. Dunn and Johnson created a memorial at the crash site.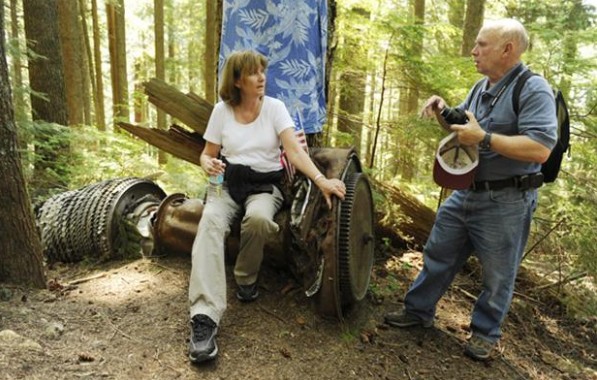 Suasn Horne talks with her husband, Tom, while sitting on the engine of her father's F-86 Sabre. In 1954, flight controllers directed Lt. Lamar J. Barlow into Grouse Mountain in North Vancouver. The couple are pilots.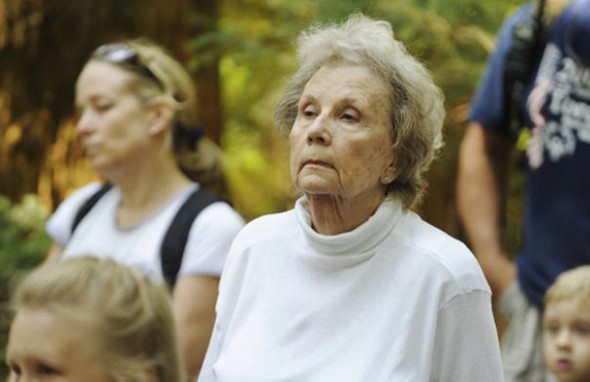 Gloria Sonntag, widow of Lt. Lamar J. Barlow, visits the site of her husband's 1954 plane crash site in North Vancouver on June 13.
All photographs by: Gerry Kahrmann, The Province.