A Tribute to Honourary Colonel R.(Bob)G. Middlemiss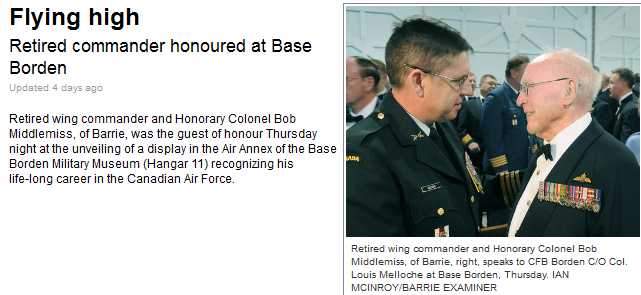 Tribute to legendary pilot Bob Middlemiss unveiled at CFB Borden
CFB BORDEN — Bob Middlemiss is in good company. Considered a living legend of Canada's aviation heritage, a special museum display celebrating the 90-year-old Barrie resident's Air Force career and achievements as a Second World War fighter pilot was unveiled earlier this week. He is invested as a fellow of 16 Wing Borden and is a familiar face around the Air Annex of the Base Borden Military Museum, where the display about his career is located among some items from Canada's rich aviation history.
The tribute to Middlemiss was designed and assembled by a group of young officers and students of the aerospace engineering course at 16 Wing and he is thrilled with the display's inclusion in the museum.
"At my age, it really is a great honour to be alive and to have this dedicated to me," he said. "I hope of the (display's) job is to inspire young people and tell them how we went through the war." "This hangar has so much history in it. It is the only one of 15 built for World War One that was refurbished. During World War Two, it served as a flying school for Harvards," he said, prior to the display's unveiling. "It's like my second home here. I lecture here and I've talked to a lot of students."
Honorary Colonel and retired wing commander Robert (Bob) Middlemiss, DFC, CD had a distinguished career over 29 years. "His entire career in the air force is a spectacular example of leadership in action, both in times of war and peace," said Master Warrant Officer Normand Marion, of Borden's 16 Wing.
Middlemiss joined the Royal Canadian Air Force (RCAF) in September 1940, earned his wings and was eventually selected to serve with a team of Spitfire pilots assembled to defend Malta in 1942. During operations there, he shot down three enemy aircraft (bringing his total to four) and was awarded the Distinguished Flying Cross. He was later shot down himself, ditching into the Mediterranean and was rescued at sea. After completing three tours during the war, he was posted back to Canada.
On his return to Canada in 1951, he commanded 421 Squadron, and went on to become the first commanding officer of the Overseas Ferry Command, helping fly some 800 F-86 Sabre and T33 jetfighters to RCAF divisions in Europe. In 1959, he was posted to California to evaluate the Super Tiger and F-104 Starfighter as replacements for the Sabre and was the first Canadian fighter pilot to fly the Starfighter. He later took command of the first Starfighter squadron at Zweibrucken, Germany and was then posted to Cold Lake, Alta. as commanding officer of Number 6 Strike/Recce Operational Squadron.
Middlemiss retired from the RCAF as a wing commander in 1969. In the 2003, he was appointed as honorary colonel of 427 Tactical Helicopter Squadron in Petawawa.
Marion said it's important to expose the younger generations to,
"...these special kind of leaders. Unfortunately, we tend to pay tribute and recognize extraordinary leaders only after they are gone, by naming buildings, streets or other features after them," he said. "(This) ceremony is one of these rare occasions when we get to recognize someone's outstanding contribution in person."
Visitors can learn about the history of the RCAF and Borden's contribution to Canada's air force heritage by visiting the Air Annex of the Base Borden Military Museum, open on weekends from 1 p.m. to 4 p.m.
imcinroy@thebarrieexaminer.com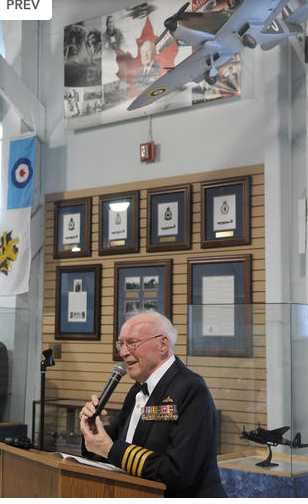 More Newspaper Coverage
Ed. Note: These are scans of the articles in the newspapers and do not reproduce well